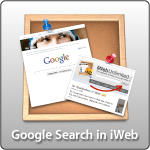 Google Search in iWeb
It's finally here!  An easy way to get Google search on your iWeb site! Woo hoo!
So there are a few ways to get a Google Search into your iWebsite, an easy "paste code into an html snippet" way and a "more complex but sweet integrated google results" way.  So let's start with the easy one first, then we'll move to the more complex one.  Here we go!