A Comprehensive Review of EverWeb 4.0's New SEO Check Page & SEO Features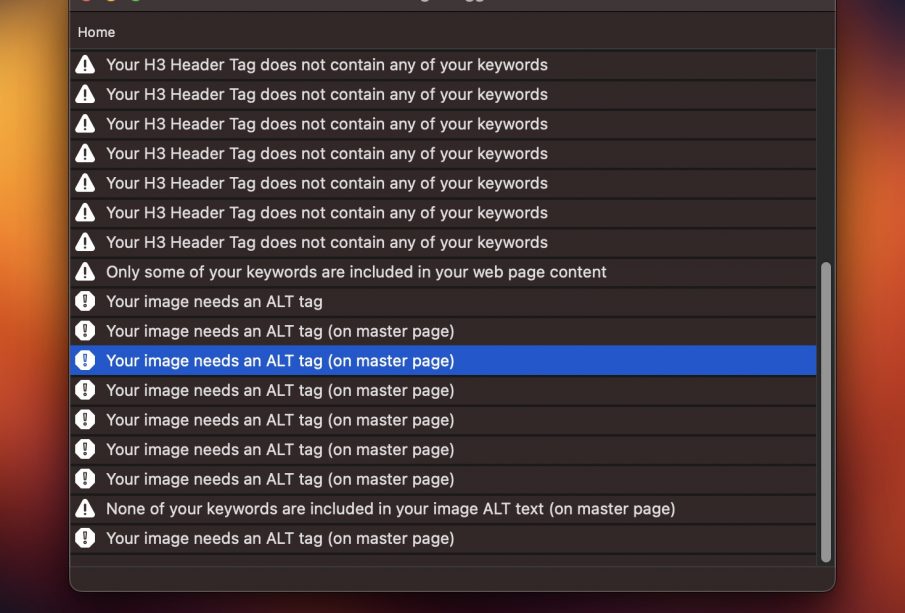 EverWeb has always made it extremely easy to create and maintain your web site. But with the launch of EverWeb 4.0, a new feature significantly helps attract more visitors & customers to your webs site: Check Page & Search Engine Optimization (SEO). Let's delve into this new feature to learn how you can use it to easily optimize your EverWeb web site for search engines.
Why Does Search Engine Optimization Matter?
A good search engine optimization strategy is the number one way to attract more visitors to your site without spending too much on marketing. Imagine a local artisanal coffee shop trying to attract coffee enthusiasts by targeting keywords like "hand-roasted beans in [city name]" or a tech blogger focusing on "latest smartphone reviews 2023." A strategic approach to SEO can be the difference between a bustling business and a quiet web site.
EverWeb 4.0's SEO Features: A Closer Look
Keyword Research For Search Engines
The starting point of a good search engine strategy is to research and develop a list of highly targeted keywords you want to appear for in search engines.
Avoid generic terms. Instead of "sci-fi books" or "computer software" think of more specific keyword phrases. Try to include your city name if you are a local business, or the current year as many searchers will add the date to ensure they are getting relevant and up to date results.
Think about the keywords and search terms you might use to find the products, services or information on your web site.
Each page on your web site should target 2 – 6 specific keywords and keyword phrases. To add your keywords to your web site in EverWeb, select the specific page and go to Inspector->Page Settings > Search Engine Optimization. Input your researched keywords into the Keywords list in this section.
EverWeb's New Check Page SEO Features
The "Check Page" feature in EverWeb is designed to provide step-by-step SEO feedback to you. By simply clicking the 'Check Page' button in the toolbar, EverWeb will give you a list of SEO suggestions.
When you select one of these suggestions, the platform guides you directly to the location where you can adjust the settings or add your keywords. For optimal and consistent SEO health, it's advisable to periodically review and implement these recommendations on each page on your web site.
Remember, every page on your web site should target 2 – 6 specific keywords. Your title tags, headers, and web site content should include your keywords as suggested but the Check Page feature in EverWeb.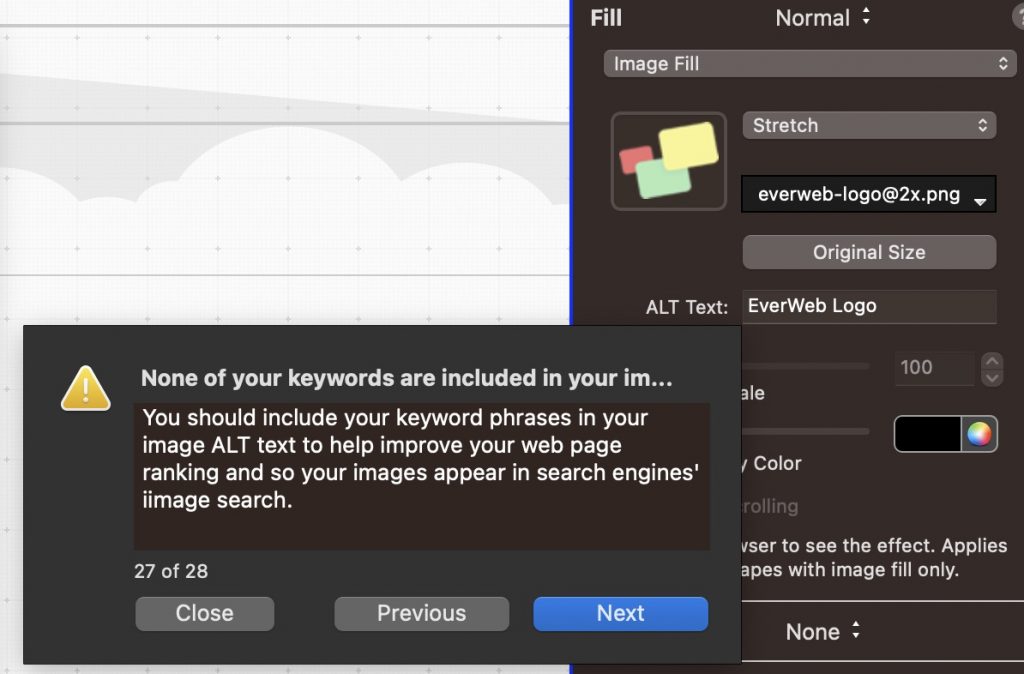 The EverWeb SEO PowerUp Add-On: Worth It?
EverWeb's SEO PowerUp add-on is a helpful tool for improving your web site's SEO. With this add-on, your web site will load faster, which is good for both your visitors and search engine rankings. It also makes it easy to add title and meta tags, helping your site show up in search results.
The XML Sitemaps act like a guide for your web site, showing search engines all the pages you have and how often they are update.
Another great thing is that this add-on lets search engines know when you update your site. Each time you publish your website, all major search engines will be notified to update their search index. And if you're using EverWeb + Hosting, the gZIP Compression will make your site load even faster.
EverWeb Search Optimization Tips for Higher Search Engine Rankings
1. Target Your Intended Audience
For search engines, targeting the right audience is key. With EverWeb, you can easily set a language or country tag, ensuring your content reaches its intended market. Whether you're catering to non-English speakers, a regional crowd, or a multi-language user base, navigate to 'Edit Publishing Settings' and select your target from the Language dropdown menu. For multi-lingual sites, each page can have its unique language setting from the Inspector->Page Settings tab.
2. Prioritize Security for Trust
Boost your site's credibility and search engine ranking by enabling HTTPS urls on your EverWeb web site. This not only safeguards user data but can also enhance your site's search engine position. The EverWeb SiteShield Add-on makes securing your web site as easy as checking a few boxes. First it provides HTTPS urls with a 'lock' icon in your visitor's browser.
Additionally, it will allow you to specify advanced security settings without any technical knowledge or configuration. Go to the File menu and select Edit Publishing Settings to enable the HTTPS urls and select you advanced security options.
3. Make Social Sharing Seamless
Maximize your site's reach by integrating social media share buttons. EverWeb offers a range of widgets, from Facebook Like to Pinterest's Pin It. Start by setting an engaging Social Media Image in the Page Settings tab, then pick the widgets that align with your audience. The more your content is shared, the higher its credibility and visibility.
Utilizing social media including Facebook, Instagram, X (formerly Twitter), Pinterest and more, can help a new website build incoming links and credibility quickly.
Final Thoughts On EverWeb Search Engine Strategies
EverWeb 4.0 is not just a design tool; it also help you share, promote and optimize your web sites. For those navigating the complex waters of SEO, this update makes it easy. Whether you're just starting out or have been in the game for a while, EverWeb 4.0 now offers important tools and web site insights that can help attract more visitors and customers.