Video Tutorial-Manage Multiple Sites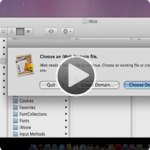 So your iWeb is getting pretty packed with pages and multiple sites and maybe even your band asked you to create a website for them and you don't want to combine it with all your personal webpage files in iWeb. How do you create a whole new iWeb file and jump back and forth between your sites. Well this video shows you all of that. You can have as many iWeb files as you'd like. iWeb has no file>open option so learning this trick will help you make multiple sites and be able to jump between them as you please.
For OS X Lion Users
If you've install OS X Lion on your mac then you'll need to do this a bit differently.  Simply download my application below and every time you launch it Lion will ask you to choose your iWeb domain file that you want to open.  Enjoy!