Sandvox Website Builder Replacement 2019: Build a Website on Your Mac
If you're a Sandvox user, you may have noticed it's about time to find a replacement or alternative website builder.
With no Sandvox update in years, the Karelia forums are littered with complaints of non-responsive support leaving Sandvox users in a state of uncertainty.
Although this is unfortunate for Sandvox users, it may be time to look for an alternative website builder. Fortunately you have a number of options.
Many users may consider RapidWeaver as a viable alternative but it too has not been receiving many updates over the last few years unfortunately. Furthermore, to get all the features you need out of it, you may need to purchase many add-ons. Even "major" updates have received few real improvements.
As new versions of macOS get released, older, legacy software will stop functioning as Apple removes 32bit support and requires app notarization and other security features.
If you want web building software that lets you work from you Mac it may be time to switch to EverWeb. You get the same easy of use as you had with Sandvox but with a host of new benefits which include;
The ability to completely design your  website as you like without  the restrictions or constraints of a template or grid
Master pages that let you make one change to update your entire website
Access to hundreds of thousands of free stock photos
Hundreds of free templates
Fully responsive websites that work on desktop computers, tablets and mobile devices
Lots of free add-ons
Free advanced contact forms
Search engine optimization features built in
What are the major differences between EverWeb and Sandvox?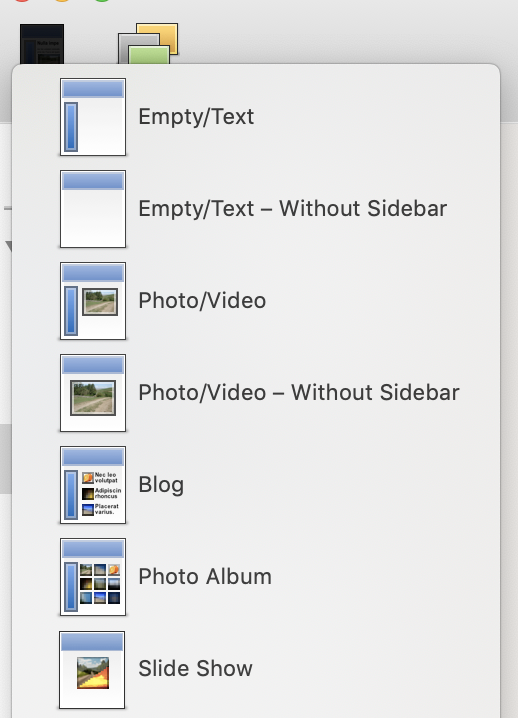 With Sandvox you had to select a number of templates, or grids, and then you could add or remove 'objects' to the template sections. These templates restricted how you could design your web site. You would have to place objects within the template grids. Although you could place most objects in any section, you couldn't drag them anywhere.
With EverWeb, you  can place objects anywhere on your page. There are no restrictions on where any image, text, shape or object is placed on your website.
Essentially with Sandvox you were mostly limited in your actual template designs provided by the software.
The major difference between EverWeb and Sandvox is the freedom in design that EverWeb offers. You are never restricted by the features provided in EverWeb because there are no template or design restrictions.
And although Sandvox did have a few third party developers and designers to provide some enhancements, the amount of third party add-ons is very limited. Developers are moving to alternative website building platforms due to the lack of support with Sandvox.
Is there anything Sandvox can do that EverWeb can't?
After a thorough analysis of EverWeb and Sandvox, the  major advantage that Sandvox has over EverWeb 2.9 is the ability to specify the file extension for a web page. For example, if you wanted to use pagename.php instead of paginame.html, you could specify this with Sandvox, but not in EverWeb.
Sandvox also provides an options to have blog posts categorized by date, which EverWeb's blog platform does not yet offer.
Bulleted lists in Sandvox are easier to accomplish in Sandvox than in EverWeb. In EverWeb, to create a bulleted list in a regular textbox on your web page you would have to enter option-8 from your keyboard, whereas Sandvox provides a drop down menu to auto set bulleted lists. Within EverWeb's blogging platform you can specify bulleted and numbered lists easily with a drop down  menu.
What can EverWeb do that Sandvox can't? What advantages does moving to EverWeb provide?
As mentioned above, the major difference between Sandvox and EverWeb is that EverWeb provides full design freedom on your website and is not limited by a template restrictions. You can drag and drop text, images, links, shapes and any object anywhere on your web page. Some further benefits (though certainly not all) include;
Design Flexibility
EverWeb lets you have multiple designs on one website. With EverWeb's master pages you can design a layout once, and apply it to as many pages as you want. You can create multiple master pages that can be used with any page on your website.
Advanced Contact Forms
EverWeb provides a more customizable contact form as well with more field types, styling options, spam protection and file upload features.
More Modern Social Media Integration
EverWeb has integration with Facebook, Twitter and Instagram as well as all the social media integration options from Sandvox.
Google Fonts Integration.
With EverWeb you can use any font from Google automatically and with no set up. It will automatically detect if you are using a Google Font and add it to your website.
Embeddable Video & Audio
EverWeb has built in widgets to include videos and audio on your website.
eCommerce
You can easily sell products using EverWeb's eCommerce widgets which is not available in Sandvox. You would need to embed HTML and other code to use this
Built in Password Protection
EverWeb offers options to password protect your web pages.
These are just some of the highlights of EverWeb over Sandvox. If you have any questions, we'd love to hear from you. Both EverWeb and Sandvox have free downloads you can use to try the each product completely free. Let us know in the comments below.