E-Commerce & Online Store Options With EverWeb
Create an online store and start selling today with all the possible solutions offered by EverWeb.
So you want to start selling online on your EverWeb website? There are so many options available depending on your needs and what you want to sell. Here, will go over all the options so you can choose the best option for your needs.
The e-commerce and web store solutions in EverWeb range from simple and free to fully featured and robust. In fact with EverWeb, you can end up saving a lot of money over other solutions (especially if you want to use Shopify).
Let's start with the easiest and free solution.
Easy PayPal E-Commerce in EverWeb
With EverWeb's built in PayPal widget you can easily add unlimited products and sell using PayPal. You can add product options that either have an additional cost (such as the size) or that just modify the product/service (such as color).
Here we have set up a sample MacBook Product. We have added a drop down menu for RAM selection with different prices for each memory option. We have also added a drop down menu for a specific color. These options don't have a different price, they are just for offering a selection to your customers.
As you can see, we have added a product image and brief description. We have also customized our 'Buy Now' button which you can apply mouse over effects using EverWeb's Inspector->Widget Settings. The Buy Now button can use a styled button type, which is very easy to customize, or a specific image you have designed.
You can apply both the standard button image or a mouse over style.
The PayPal widget has a whole list of powerful options that we couldn't possibly go over in a short overview but setting up the PayPal widget to sell your products is extremely easy.
First you specify your PayPal email address in the top most field. This is the most important field as it tells the widget which PayPal account to send your funds too. Next you can select a Button Type which can be a quick Buy Now button, an Add To Cart button,  A View Cart button or a donation button.
The Add To Cart and View Cart buttons allow you to very easily add a full shopping cart experience for your visitors. EverWeb and PayPal take care of everything for you. Further down the inspector you will also see the option to specify a final 'Thank You' for ordering page that your customers will see completing their order.
From here you can also specify the price, currency (of which over a dozen are available) and a tax rate.
Once you have added these options, if you are selling a physical product you can add your shipping and handling options. These settings are actually extremely powerful and give you a lot of control over your product shipping options.
If you choose the 'Use Global Shipping Settings' your shipping settings will be set within your PayPal Business account online. Otherwise, Everweb will use the shipping and handling options you specify here.
The built-in PayPal eCommerce Widget in EverWeb is actually very powerful and easy to use. There is no additional cost to use it either which makes it a great option if you are ok with only selling through PayPal.
With the PayPal widget if your customers don't have a PayPal account they can still pay with their credit card without actually creating an account.
 Tip: As of EverWeb 3.3 and later you can now select multiple PayPal widgets at a time and update options for them all at once. This is useful if you need to change the shipping prices for multiple products at once, or you need to update your PayPal email address.
PayPal Store Widget From EverWebGarden.com
Although the PayPal Widget built into EverWeb should offer the features you need to sell online, if you want something a little more robust there are a few really great options from EverWebGarden.com which makes it very easy to create a full e-commerce store. There is even a widget to make a searchable online store so your visitors can easily find the products or services you are selling.
The two E-Store options from EverWebGarden.com offer the ability to create a grid layout store that when clicking an individual product, you get a popup window with products images, description and pricing.
They offer most of the features you will find in the built in PayPal eCommerce Widget but with an easy web store grid layout.
I recommend the E-Store advanced as it offers more customization options with the grid layout and multiple images per product.
The great thing about these widgets is that they include the ability to create really awesome looking mouse over effects as your visitors scan and browse your available products.
Below is a quick screenshot of the web store. You can add as many products as you like and clicking one will bring up the popup window with more images, a description, buy now links and even a share link if you want your visitors to be able to share the product to friends or on social media.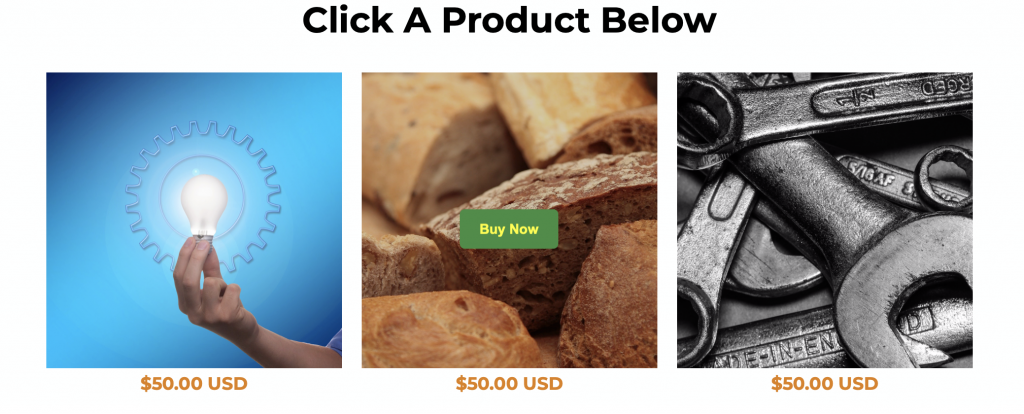 If you want a little more flexibility, try the Searchable Product Grid which creates a similar grid like web store with a search bar, product pricing and the ability to link each product to specific pages on your site.
Sell Your Homemade Crafts with Etsy & EverWeb
Etsy is famous for helping you sell your homemade products online with ease. It is tailored made for independent sellers and with EverWeb you can easily take your Etsy products and put them directly on your EverWeb website.
It is great for hobbyist or small businesses to sell online. Once you have created your Etsy products and added them to your account, simply follow the video tutorial below to add the Etsy products to your EverWeb website.
Selling Digital Products With E-Junkie & EverWeb
If you have digital products to sell, such as PDFs, software, music or basically anything you want visitors to be able to purchase and download, you will love E-Junkie. It makes it so easy to create an amazing experience for your visitors on your EverWeb website to buy your products.
You can accept many different payment methods and can provide a highly customized shopping cart experience for your potential visitors. There is very little setup and adding your e-junkie products to EverWeb is very easy.
Watch the video below for step by step instructions on how to use e-junkie and EverWeb.
Full E-Commerce Solution With ECWID & EverWeb
If you're looking for a feature rich but also low cost and even FREE online store option, ECWID Online Store is a fantastic option for your online store with EverWeb.
With ECWID you can easily add your products, images, descriptions, prices and then embed your store directly on your EverWeb website. The great thing about ECWID is you have full management of your products online. You can manage customers as well, integrate with newsletter services like MailChimp and even get your store on social media.
However, if you want to keep it simple and create a robust online store with searchable products and easily add that to your EverWeb website, this video will show you how. Starting is very easy and overtime you can explore all the features that ECWID has to offer.
Shopify, the Gold Standard in Online Stores & EverWeb
Shopify is probably the most famous and feature rich online store option. The problem is that it is more expensive and more difficult to set up in terms of creating an online store. With EverWeb you can not only set up your Shopify online store much easier but you can even save hundreds of dollars each year.
The trick is that using the Shopify Lite feature, you can get the power of Shopify with each of use of EverWeb's design.
Rather than pay $29 USD/month you only pay $9 USD/month and you get the power of Shopify's features and the flexibility of EverWeb. If you are serious about selling online, this is a great, cost effective way to sell online.
Watch the step by step video tutorial for adding your Shopify products to your EverWeb website.
As you can see, there are so many options for selling online. They are all relatively easy to set up. The built in EverWeb Widget and those from EverWebGarden.com are both powerful and easy to set up. E-Junkie, ECWID and Shopify offer more professional online stores with many payment options, full shopping carts, customer management and online product management.
Our next post will go over strategies for improving sales and keeping customers coming back.