iWeb to WordPress Exporter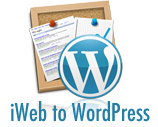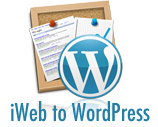 If you currently have your website/blog in Apple's iWeb, you best be making plans to move it to a new web platform.  Of course this platform being WordPress.  This post is for users who have a website/blog that has been created in iWeb and are looking for a solution to move their site.  Many people have been blogging with iWeb and using the MobileMe comments to bring discussion to their blog.  Well, Apple has announced that they will be removing the MobileMe publishing service directly aimed at those iWeb users who currently use MobileMe as a publishing platform.  That means that the iWeb users need to find a new home for their website/blog created in iWeb. Not only do iWeb users need to find a new host, but perhaps a whole new web platform because it seems that iWeb will unfortunately not be developed any further by Apple. So we realize the problem and see that we need to move iWeb to a different web platform such as WordPress.  Well the solution comes from Rage Software.  Rage Software has recently released some software that will do just that.  It will convert your iWeb site content ready to import into WordPress.  This is big because as soon as MobileMe goes away, so will all your comments that were posted on MobileMe as well.  So this is a great tool to save all that content and move it to the WordPress.
Here's a video on how it works:
You can learn more about it by clicking here:
Visit Rage Software iWeb to WordPress Page
Then to learn all about WordPress visit our brand new site called Learn2Wordpress.com to learn all about how to build and create websites with WordPress.