EverWeb For Windows First Look!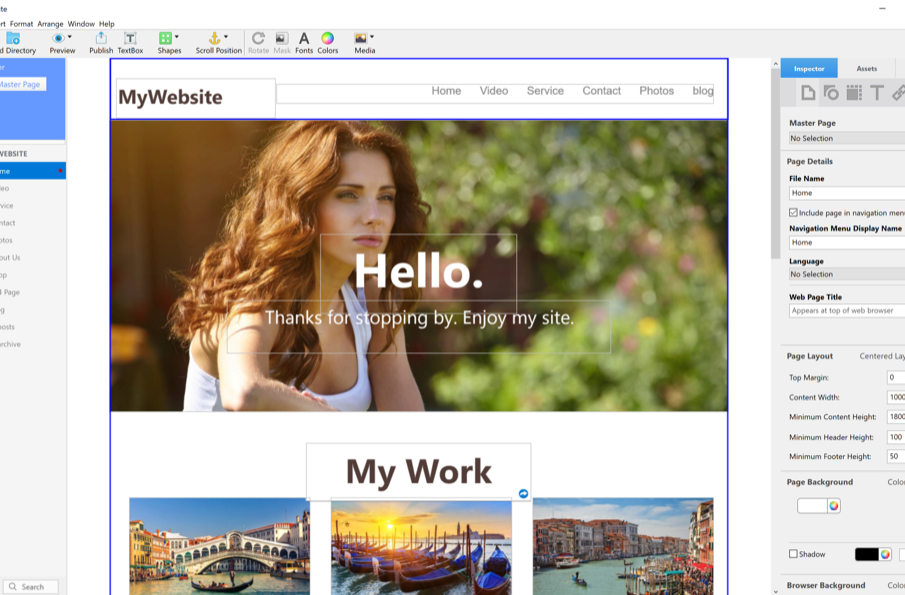 If you love using EverWeb on your Mac, you know have the opportunity to use it on your Windows PC as well. If you're comfortable with the Mac version of EverWeb, you will feel right at home with EverWeb for Windows.
Although most things are almost exactly the same, there are of course some differences to adapt to EverWeb for Windows. These differences are very subtle but important.
In this article, we will walk you through downloading and installing EverWeb for Windows, some of the  differences between the Mac and Windows PC version and generally use cases.
Download & Install EverWeb for Windows
EverWeb is compatible with Windows 10 and the latest Window 11.
To download EverWeb for Windows, head over to the EverWeb Download page and click the 'Download Now for Windows' button.
A popup window will appear and your download should start after a few seconds automatically.
You will see your web browser downloading EverWeb in the top right corner. Once EverWeb is downloaded on your Windows computer, you may see a security warning that says;
EverWebSetup is not commonly download. Make sure you trust EverWebSetup.exe before you open it.
This is easy enough to get around and just means that since EverWeb is new, Microsoft's central app database doesn't recognize it.
Hover your mouse over the EverWebSetup download and you will see a trash can icon and and icon with 3 dots. Click the 3 dots to reveal the drop down menu and select 'Keep'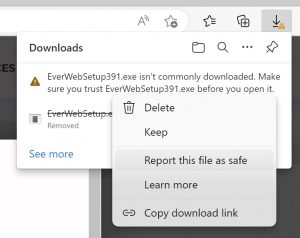 After you will will be presented with this dialog which is an additional warning. Unlike Mac Apps, Windows is more susceptible to viruses so additional screening may come up.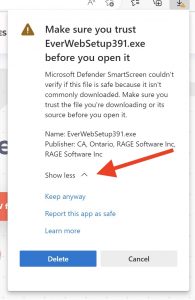 In the second dialog where it says 'Show More' click the little arrow. You can select 'Keep anyway' or 'Report this app as safe' and the download will no be available to open.
When you open the downloaded EverWebSetup.exe file you will see the EverWeb for Windows Installer. Follow the steps to fully install EverWeb.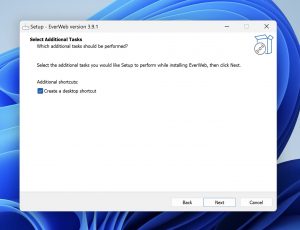 On the last step of the Installer you can automatically launch EverWeb. If you have previous projects you have created before in EverWeb for Mac, you will not see them here unless you move your projects over from your older computer to your Windows machine.
Transfer EverWeb Projects from Mac to Windows
There are various ways to transfer your projects from your Mac to your EverWeb computer. If your project is listed in the Projects window click the circle with three dots to reveal the options menu. Then select 'Show On Disk' to reveal your project file on your computer.
Now you can use a USB key or better yet, a service like dropbox to upload and move your file to any computer.
Then once you have transferred your EverWeb project to your Windows computer, you can drag the Projects folder onto the Projects Window in your EverWeb for Windows version.
You will notice that on Windows the project is an actual folder and not a single file like it is on the Mac. We will go over this in the next section here.
Differences Between EverWeb for Mac and EverWeb for Windows
Although EverWeb for Windows is almost exactly like the Mac version, there are some small differences you should consider. As mentioned, the EverWeb Projects on Windows are folders and you can see all the internal files that are included in your project file.
Do not change, move or rename files in this Projects folder.
Instead, on Windows it is best to drag and drop the entire folder onto the Projects Window in EverWeb. That way, you can easily open a project by double clicking it when you launch EverWeb.
Alternatively you can open Projects on Windows by double clicking the file ending in .ewwinproj and the Project will open up in EverWeb.
If your EverWeb website has used some custom fonts, or even Google fonts, you should make sure to download and install them on your Windows computer. They won't be carried over from the Mac version automatically.
Additionally, any widgets you have installed on your Mac should be added to EverWeb for Windows. Download the widgets you have been using on your Mac and drag and drop them onto the Widgets list in your EverWeb Designer window.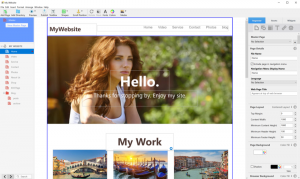 All the features you have been using on Mac are available on Windows. The software is pretty much the exact same, just with Windows compatibility.