Video Tutorial – Photo Swapper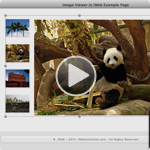 Photo Swapper HTML Image Viewer in iWeb.
This adds a little image swapping viewer in iWeb.  Just follow the steps in the video tutorial.
Here is the snippet code below:
[iWeb-Code='HTML Image Viewer']
Then just replace the items as outlined in the video to your images URL's, and your Titles, and your set.
This was a video answer submitted in by an iWebUnlimited fan. You can submit your own questions in for a video answer under the "Video Tutorials" tab and click Video Answers or just click here.