Video Tutorial – Comments in iWeb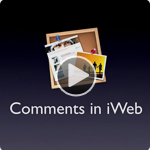 Are you hosting your iWeb site on your server? That means that you can't use the built in comments feature in iWeb. It only works if you have a MobileMe membership. Well here comes iWebUnlimited to the rescue. Now you can get comments into iWeb no matter who your hosting your website with. Just follow the steps in this video and your set!
If your doing the iFrame way use this code below to create a blank HTML page:
<?xml version="1.0" encoding="UTF-8"?>

<!DOCTYPE html PUBLIC "-//W3C//DTD XHTML 1.0 Transitional//EN" "https://www.w3.org/TR/xhtml1/DTD/xhtml1-transitional.dtd">

<html xmlns="https://www.w3.org/1999/xhtml" xml:lang="en" lang="en">

<head>

<meta http-equiv="Content-Type" content="text/html; charset=UTF-8" />

<title>Comments</title>

</head>

<body>

<!-- Add Comment Code Here -->

</body>

</html>
If you found this video helpful, please consider donating to the iWebUnlimited cause by clicking below.
[iWeb-Code='donation']