Video Tutorial – Meta Tags in iWeb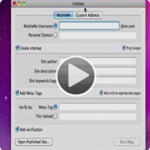 Edit: I'm leaving Jason's post below, but I wanted to show you guys a much much much easier way to add your meta tags to your iWeb website. I never recommend iWeb users to edit the HTML on their site. It's really not necessary, especially with the resources made available to us. So watch this video on how to add meta tags to your iWeb website. You'll also see how to add other items such as Title Tags, Alt Text, Meta Description, and codes for Google Analytics and Statcounter.com. If you have any comments or suggestions, please let me know!
Need a little more help in the search engine war with your iWeb site? Well this tutorial will show you how to add Meta Tags to your iWeb pages.
Meta Tag Code:
Description:
<meta name="description" content="Your site description here.  Don't go over 150 characters."/>
Keywords:
<meta name="keywords" content="your, keywords, here, seperated, by, commas, don't, do, more, than 7, to, 10, keywords"/>
Author:
<meta name="author" content="Your Name or Company Here">