iWeb Tip #11 – Polls in iWeb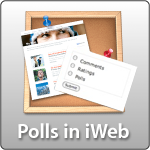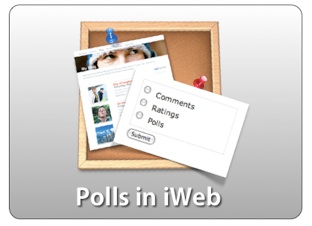 Ever wanted to put a poll of some sort on your website?  It's actually quite easier than you may think.  The key to getting a great looking poll on your site is the 3rd party service Poll Daddy at PollDaddy.com.  It's very customizable, has many features to play with, it's super easy, and it's free!  Here's how:
Step 1:
Go to PollDaddy.com and create a free account,
Step 2:
hit create poll and choose your questions and your answers for your poll.
Step 3:
Adjust features to be on your poll and change the look and feel, then save.
Step 4:
You'll then get some code to copy, jump over to iWeb and paste it into an html snippet.
That's it.  It has many features that I'd recommend checking into while your logged in.
Really that's it! Go make some fun Polls for your website.
Here's an example I've made from PollDaddy working in iWeb »