iWeb Tip #17 – Page Titles in iWeb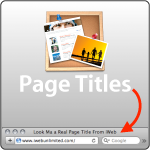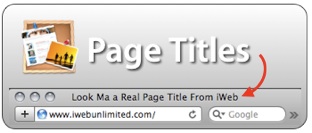 You'll notice that when you visit a webpage at the top of your browser there is a title of the page.  In iWeb you get this title by the header text box and if you delete that it just uses the name of the page in the sidebar.  Search engines do a lot better finding your page if you have a good title for your page so here are some tips to help get your page to have a title.
So the first thing is that when you add a new page to your site in iWeb there is always a title box, even when you choose the blank template page.  Many people delete this text box when they are making a custom design, but don't do it!  Try to make it so everypage has this text box on the page.
The problem lyes in that the text box can't leave the header part of your page, so it almost forces you to use that textbox in your design.  But what if you don't want to use that text box cause you want a lot of words to be part of your page title (meaning the part that will show in the browser top like this image)

But you don't want it to be on the actual page.
So what you can do is put this text box really small at the top of the page and give it a good title and change the color to be the same as the background.  You do that by using the little magnifying glass on the color picker and click on the background.  That way you'll be sure to get the right color. By doing this it will help you to have a good title for your page and it's not seen.  And this way you can make your own design without being forced to really use that box in the design (if that makes sense). Here's an image to show it better:

Sometimes you have an object, and image, or possibly a flash object in the header of your page you can just use the arrange menu on the menu bar and send it to the back (or press command + shift + B).  That way it's not seen but you can still have a good title.  Notice my image below.  I turned on "Show Layout" by pressing Command + Shift + L and you can see that I sent the text box behind the top image.  That way it won't be seen but I can have a long title, that will fully describe my page and help my web searchability out.

The blog and podcast templates in iWeb let you move the title text box out of the header into the content area by holding down the command key as you drag it.  It only works on the main and archive pages.  The entry pages have to stay in the header.
So the main point of this tip is to leave the head text box on your page and either use it in your design, or type whatever title you want for each page (suggested) and hide it on your page so it won't be seen, but will be used.
Note: If you forgot about this tip and already deleted that box, no you can't get it back.  You can do one of two things.  Create a new page re-design and copy and paste stuff over to it, or you can publish your page(s) and open the html files in an html editor (like Coda, Espresso, Text Edit) and find the title tag and put in your own title.  It looks like this <title>This is My Page Title</tite>
Another Note: I've had some readers scare other readers by listing that this will get your site black listed on sites like Google and Yahoo.  The terms says it will be banned only if "your site is perceived to contain hidden text and links that are deceptive in intent", this method is not deceptive in intent as it only adds text to the title of the site.  So this will not hurt your site in the search engine, it will only help it.
Hope this tips helps.