iWeb Tip #4 – Transparent Flash in iWeb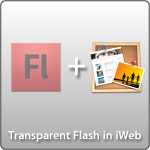 This is much like the tutorial before on adding flash to iWeb, but sometimes you still want to use the background that you have in iWeb, or you want to use other graphics behind your flash file. Well here is the solution to have the background of your flash (.swf) file transparent.
1) Create flash .swf file
2) Place swf file on server (like your iDisk or your own server). If using your MobileMe I recommend making a folder called "flash" on your iDisk in this location: iDisk/Web/Sites/flash/myflashfile.swf. Same if using your own server www.site.com/flash/file.swf
3) Come to iWeb, choose HTML Snippet and paste this code:
<object classid="clsid:D27CDB6E-AE6D-11CF-96B8-444553540000" id="obj1" codebase="https://download.macromedia.com/pub/shockwave/cabs/flash/swflash.cab#version=6,0,40,0" border="0" width="800" height="196"><param name="movie" value="https://web.me.com/username/flash/myflashfile.swf"><param name="allowScriptAccess" value="always"><param name="wmode" value="transparent" /><param name="quality" value="High"><embed src="https://web.me.com/username/flash/myflashfile.swf" wmode="transparent" pluginspage="https://www.adobe.com/go/getflashplayer" type="application/x-shockwave-flash" name="obj1" width="800" height="196" allowScriptAccess="always"></object>
4) Now just change the code in red to your own URL and flash width and height, and hit apply.
5) You now have successfully put a flash file in your iWeb document and you will see the transparency behind it.
Note: if your using your own server and not MobileMe, just replace the URLs in red with your URL. For example https://www.mysite.com/flash/myflashfile.swf